Florists to the Field (Hardcover)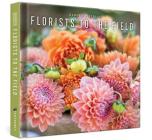 Purchase of this book is final and may not be returned.
Description
---
Garden District co-owners Greg Campbell and Erick New have grown a business of floral abundance and artistry one relationship at a time. A partnership of boundless creativity with an anything-can-be-done attitude, Greg and Erick never let reality get in the way of a great idea. On task they seem invincible, dream big, and realize their vision with exactness, always striving to surpass expectations. Be it a skyscraping installation or an unobtrusive centerpiece, they weave flowers and greenery into textural structures that bring people together for every imaginable occasion. In their competent hands, choice blooms become reassuring stewards of life's grand milestones and simple pleasures. From plant breeders and flower farmers, to importers and exporters, to markets worldwide, Greg and Erick have navigated a vibrant labyrinth of activity together for 25 years.